Bruce Willis stands as one of the most unmistakable figures in contemporary American cinema. With iconic performances in blockbusters such as Quentin Tarantino's "Pulp Fiction" and M. Night Shyamalan's "The Sixth Sense," alongside less celebrated works like "Hudson Hawk," Willis has etched his own unique place in the annals of Hollywood. Yet, beneath the surface, lie intriguing anecdotes that cinephiles and celebrity enthusiasts may find captivating, shedding light on Willis' remarkable journey to his current standing in the industry. Below are some lesser-known facts about Bruce Willis that you should know if you are a true fan.
Ten Facts About Bruce Willis
1. Bruce Willis Never Finished Shooting One of His Movies
In 1997, Bruce Willis began filming a romantic comedy called Broadway Brawler, where he played a former hockey player finding love. However, after only 20 days of shooting, Willis, who was also a producer, decided to replace the director, cinematographer, and others due to creative disagreements. This caused the studio to halt production, and Disney, the parent company, covered the costs in exchange for Willis starring in three Disney movies, including hits like "Armageddon" and "The Sixth Sense."
2. Bruce Willis Had His Own Cartoon Series
In 1996, Bruce Willis provided his voice for a cartoon called Bruno the Kid. It was about an 11-year-old spy named Bruno who tricks his handlers into thinking he's an adult. The show only ran for one season.
3. Bruce Willis Might Have Been One of the Best Bartenders in NYC
Before becoming a famous actor, Bruce Willis tended bar at Chelsea Central in New York City. Actor John Goodman, who knew Willis from before they were both famous, once said, "Bruce was the best bartender in New York." He was known for keeping the patrons entertained and putting on a great show.
4. He Suffered Permanent Hearing Loss During Filming of 'Die Hard'
While shooting the action-packed film 'Die Hard,' the loud blanks used for gunfire scenes caused Bruce Willis to lose two-thirds of his hearing in his left ear. This happened during the famous "table scene" where his character, McClane, takes down a villain.
5. He Starred in His Own Video Game
After 'Armageddon,' Willis was offered a role in a video game called 'Apocalypse' on the Sony PlayStation. Originally intended as a sidekick, Willis ended up with the lead role and even had his face modeled onto the character. He provided the character's voice and witty lines, making him one of the first stars to have their own video game not tied to an existing movie.
6. He Put a $1 Million Bounty on Saddam Hussein and Osama Bin Laden
Bruce Willis openly supported Republican presidential candidates and was vocal about his views on the "War on Terror." He even offered bounties of $1 million each for the capture of Saddam Hussein and Osama Bin Laden. Though initially meant for military personnel, the offer was later open to any civilian who could accomplish the mission.
7. He Dropped Out of Acting School
Bruce Willis moved to New York City after leaving acting school. He worked as a bartender and waiter while trying out for acting roles. It wasn't until he landed the role of David Addison in the TV series 'Moonlighting' that his acting career really took off.
8. He Was Married to Demi Moore by Little Richard
Bruce Willis and Demi Moore tied the knot in Las Vegas, and the ceremony was officiated by none other than the legendary rocker, Little Richard. The flamboyant singer, who later became a religious minister, has also presided over weddings for other celebrities like Cindy Lauper and Bruce Springsteen.
9. Bruce Willis Strips Down on "Late Show"
In 1996, Bruce Willis appeared on the "Late Show with David Letterman" to promote Demi Moore's film "Striptease." In a surprising move, he stripped down to his underwear during the show, creating a memorable moment in late-night television history.
10. He Starred in 'The Sixth Sense' Due to a Film Setback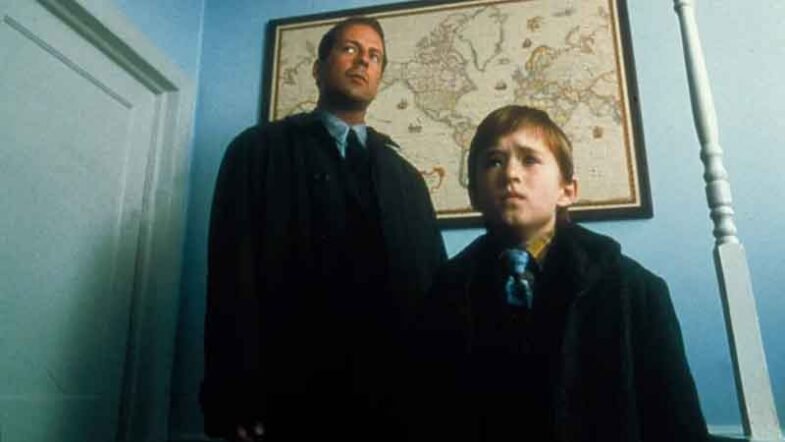 Bruce Willis' role in 'The Sixth Sense' was a standout in his career. This opportunity arose after he caused the cancellation of another project. Willis was set to star in a Disney-backed hockey movie, but disagreements led to him halting production. To avoid a legal dispute, Disney convinced Willis to star in two other films, resulting in the iconic 'The Sixth Sense.'
Also Read: Bruce Willis's Wife Open Up About His Health