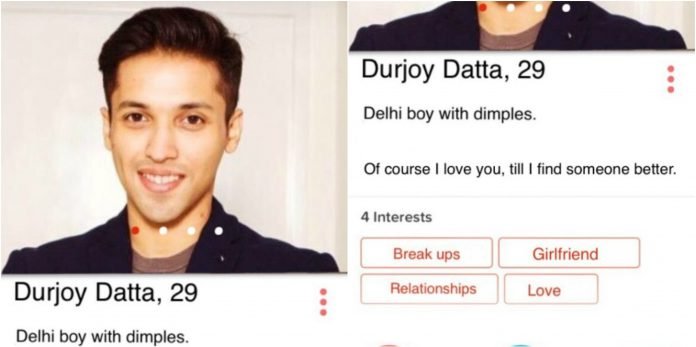 Dating fever in India is growing. We started off with the love letters and now we are in the digital world where we talk about online dating. There was a time when tinder was the only online dating app available. Though in last two years, many new dating apps have come but tinder is a cult classic, and you have to agree with this.
And if you don't, nobody cares :p (Sorry for being so rude.)
Let us talk about tinder. We have seen many creeps, weirdos, the fake ones, assh*les and much more. But what if Indian writers have tinder accounts? Any idea?
Well, if you don't have any idea, you have to check out these utterly honest tinder bios of Indian writers:
1. Durjoy Dutta
I know, Indian girls are so much in love with this guy. Obviously, look at his dimples. Seems like he is the only good looking Indian author. (Not a fan girl though!)
2. Shashi Tharoor
Most of the girls will be like, "OMG! Look at this creep! He is fuckin' 60 years old, what the hell is he doing here?
3. Chetan Bhagat
Hey girl look at me, I am the IIT & IIM guy! (Honestly, I would have written many mean things about him but I am staying away from negativity. And obviously not in a mood to spread negativity.)
4. Shobha De
Doesn't matter if a guy wants to right swipe or not, she will left swipe everyone! (Basically, she hates every single person)
5. Vikram Seth
Who is he? *(Googles – Vikram Seth. Google say- Padma Shri winner*) OMFG! He is a Padma Shri winner, parents would love him. Let me right swipe.
6. Jhumpa Lahiri
No sarcasm, no puns! (#FanGirl)
7. Arundhati Roy
Who doesn't like a smart woman?
8. Salman Rushdie
Again, I am short of words. He is a really good writer.
9. V.S. Naipaul
A chilled out guy because he got not fucks to give.
P.S. : This post is not meant to hurt someones feelings or sentiments. These are AMAZING authors. Although if you like Chetan Bhagat, I am officially hurting you. And I am not sorry.
Images Source: HuffingtonPost