Wonder if Baahubali will be made in Bollywood, who will play the role of Baahubali and Katappa?. We decided to do a Bollywood casting for this epic movie and selected some of justifying actors according to the roles. check out which Bollywood actor/actress fits to various characters of Baahubali. #BollywoodCasting
Amarendra Baahubali: Hritik Roshan
Prabhas played the role of Armarendra Baahubali, which was loved and appreciated by everyone. when it comes to a bollywood remake of Baahubali, there is only one name that fits to Armarendra Baahubali role and that is Hritik Roshan.
Bhallal Deva: John Abraham
Bhallal Deva's role was played by Rana Daggubati. For the role of Bhallal Deva we needed a muscular man and right now only John Abraham can give justice to this role.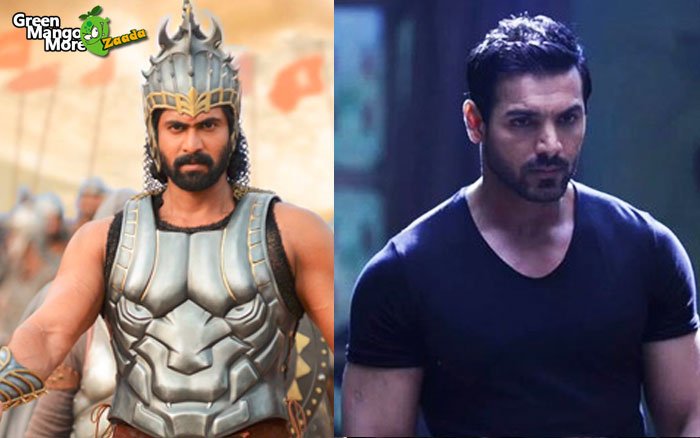 Avanthika: Deepika Padukone
Avanthika's role was originally played by Tamannaah. Avanthika's role was both soft and bold in the movie. In bollywood Deepika Padukone is the only choice for this role because she previously did a similar role in Bajirao and Ramlila.
Bijjaladeva: Paresh Rawal
We chose Paresh Rawal for the role of Bijjaladeva because he is an excellent actor and according to us he can fulfill the requirement of this role with his unique acting skills. Bijjaladeva's role was played by Nassar.
Maharani Devasena: Vidya Balan
Maharani Devasena was played by Anushka Shetty and we chose Vidya Balan for this role to match up the strong image of Maharani Devasena.
Katappa: Puneet Issar
Sathyaraj played the role of Katappa, which was the most talkative role of Bahubali movie. It was hard for us to find the face of Katappa from Bollywood but we think Puneet Issar will be the best option for this role.
Kalakeya: Nawazuddin Siddiqui
Kalakeya the villain of Baahubali movie was played by Prabhakar and in Bollywood we think Nawazuddin Siddiqui can do justice to this role but he has to put on some weight maybe. 😛 or he can do it with his lean body too, after all he is a great actor.
Sivagami: Rekha
Sivagami the strongest character of Baahubali was played by Ramya Krishnan. according to us Rekha is a best choice for this role.
That's it guys. Hope guys you'll like this Bollywood casting for Baahubali. Do share your views or your characters in the comment section.
Like Us: Facebook.com/GreenMangoMore
Also Read: Baahubali Was First Offer To There Bollywood Actors
We are going do some more Bollywood Casting post in future, so keep in touch. 🙂